Casper (GCCFI Sup Hib Gr Pr & TICA Ch Alt Ishcus Casper the Friendly Ghost) Cream-silver classic tabby (es 22)
Casper is the clown of the house. He embodies everything I ever wished for in a Maine Coon. He is loving, super friendly, loves human company, and always makes everyone laugh. He enjoys visitors coming to the house and greets them with his soft chirping language. Casper is the best companion ever and sleeps beside me every night. He really does live up to his name! Casper has also been very successful on the show bench. He won Supreme Neuter 2018 and holds the titles of GCCFI Supreme Hibernian Grand Premier and TICA Champion Alter. See more info on Casper here.
Franklin (GCCFI Hib Gr Ch & TICA Ch Ishcus Franklin D). Blue smoke (as)
Franklin is Casper's cousin and uncle (that's really only possible in the cat world!). I fell head over heels in love with him when I saw him as a kitten at a cat show. To my devastation, he was already sold to a breeder in New Zealand. Nevertheless, I tried my luck by bombarding his breeder with texts and messages if he could live with me instead. A week later he moved in. I am totally in love with his wild and feral looks and his contradicting introvert and quiet personality. He truly is a very gentle giant. Franklin is slowly building up his show career. He is GCCFI Hibernian Grand Champion and TICA Champion and has attended shows in Ireland and the UK. See more info on Franklin here.
Mel (Caramellocoon Edgar). Red-silver classic tabby with white (ds 03 22).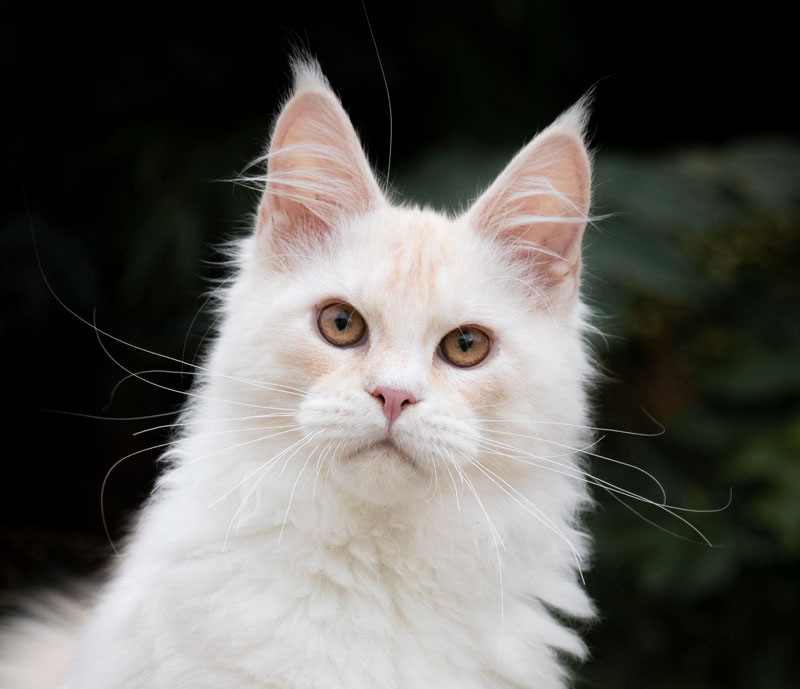 Mel is our newest addition from Caramellocoon in the Czech Republic. He is a beautiful and very balanced red-silver classic tabby boy sporting a pronounced square muzzle and head, as well as a deep chin with a correct bite. With his sweet and loving personality he fits very well into the existing group of cats. See more info on Mel here.
Sassy (Ishcus Quiet Assassin). Black-silver classic tabby with white (ns 03 22)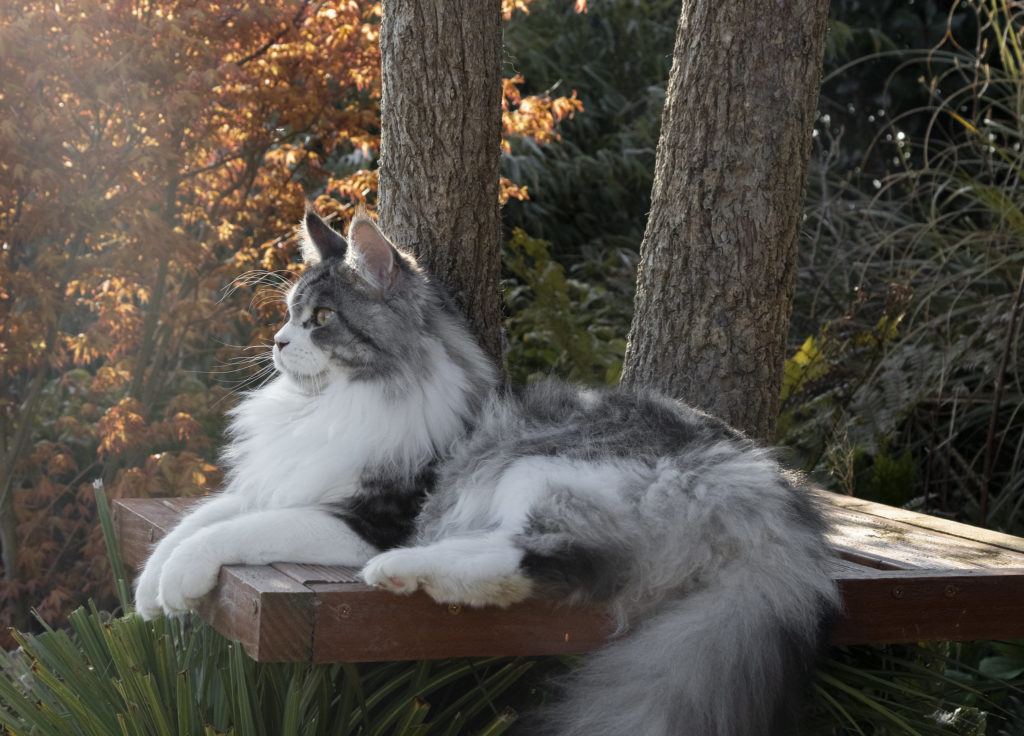 Assassin is the newest family member. Black-silver is my favourite cat colour and when his litter was born I had no choice, I was smitten! I was hoping to add his sister to the pack, the most obvious choice for keeping Franklin entertained. However, when I met him in person, he conquered my heart instead and he had to come live with us. He has the most gentle personality, and he is a real lap cat, constantly cuddling with his humans and cat friends alike. With as many cats as I have, he was the perfect match as he does not have a dominant personality and hence, he fit into my group right away. Like Casper, he has a great sense of fun and you cannot deny that both of them are closely related. See more info on Sassy here.
Kismet (TICA RW Sup Gr Ch Alt Silverfern French Kiss). Black classic tabby with white (n 03 22)
Kismet ended up with me rather unplanned. His breeder sent me a video of him when he was 3 months old and his elegance and beautiful warm classic tabby pattern took my breath away. Hence, I ended up driving to Kent (UK) to collect him. Kismet has a very gentle nature, he is a real mammy's boy, who gives me a kiss and a cuddle every morning. He ended the TICA 2019/2020 show season as Best Maine Coon Alter and 8th best Allbreed Alter in Europe West. See more info on Kismet here.
Some of the boys together in the garden.